We offer recruitment and executive search options tailored to your needs
The challenge of building your team with exceptional professionals who fit well within your organization is unique to each position you seek to fill. And, when it comes to selecting an executive search firm to be your recruitment partner, you have many options to choose from.
It is important to understand whether retained, engaged or contingent – or a customized blend of each – will best fit your search. We will listen carefully and then recommend the search arrangement that optimizes our extensive network, deep market knowledge and recruitment expertise to produce the best candidates for you.
Let us tailor an approach that meets your needs and priorities.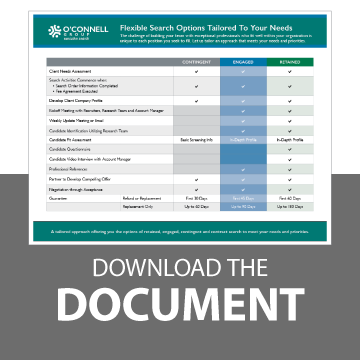 Download this two-page guide to understand the recruitment options that will achieve the objectives for each position you seek to fill.