Delivering Health System Leaders with Strategic Marketing Muscle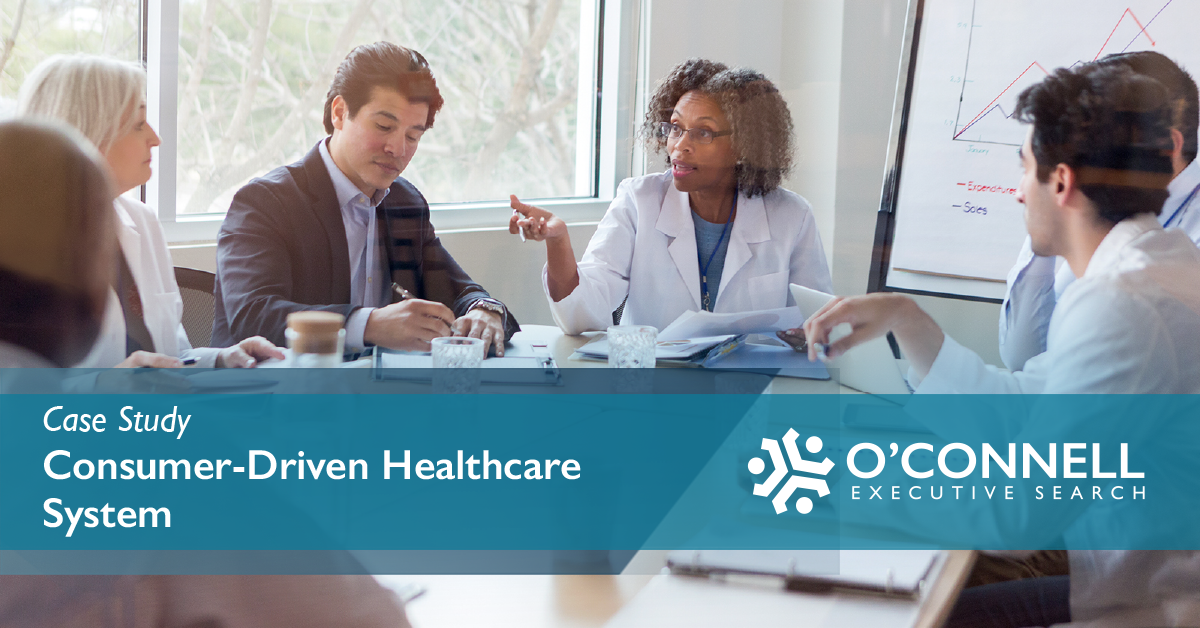 Challenge
In recent years, healthcare systems have adopted a consumer-driven approach to delivering medical services, encourage preventive care and fostering better health throughout their communities. As healthcare has evolved, so has the strategic discipline of healthcare marketing. For many health systems, the Chief Marketing Officer has become a firmly established member of the strategy team along with clinical and business leadership. Marketing leaders have earned their seat at the table as C-Level executives by delivering growth.
However, the disruption of the global pandemic turned the growth plan of nearly every health system across the U.S. on its head. Profitable service lines and non-essential procedures paused – repeatedly – as caring for COVID patients and preventing community spread took precedence. At the height of the pandemic – despite many unknowns – one forward looking health system recognized the need to look beyond the immediate challenges to ensure that their trajectory of strategic, long-term growth stayed on course.
"As our entire industry faced unprecedented challenges, the skill and urgency that O'Connell Group brought to these searches as invaluable. They understood that bringing highly adaptive, agile change leaders to our organization was mission critical, and they delivered in record time." – Chief Marketing Officer
As a high-growth, four-state integrated health system, the organization has thrived in this constantly changing and evolving industry. They have become known for their very collaborative, fast-paced culture, and consumer-driven strategy and remarkable care delivery. The role of marketing has continued to grow as the organization integrates new medical centers, services and communities into their family of 18 medical centers and more than 2,400 physicians in more than 800 locations, and numerous outpatient surgery centers, medical plazas, rehabilitation programs, diagnostic imaging centers and community health outreach programs.
Several years prior, they had hired a strong, transformational leader with classic training in consumer packaged goods as Senior Vice President of Strategic Marketing. As the pandemic surged, she was promoted to Chief Marketing Officer and started the search to fill roles with leaders who would provide strategic consumer insights and marketing muscle to understand and deliver what their communities would need in the "new normal."
Solution
Recruiting for the crucial during the crisis required a great deal of confidence in their search partner. The organization engaged O'Connell Group to leverage the firm's recruitment expertise and deep network of relationships with classically trained marketing and insights professionals. O'Connell Group is known for their track record in identifying leaders who can effectively translate their classic training, skills and experience in consumer-driven enterprises across industries.
One of the fundamental challenges O'Connell Group successfully addresses is helping classically trained consumer marketing professionals envision the benefits of taking their next career step toward a different category. This proved to be a critical success factor in quickly filling these roles with the right candidates. The search team identified the right candidates to fit the health system's collaborative, mission-driven culture and embrace the opportunity to make an impact in their communities through a consumer-driven strategy.
Director, Marketing Research and Insights
The health system places high importance on bringing the voice of the consumer to projects across the organization, including operations and customer experience teams. O'Connell Group's recruitment team tapped into their network of leaders who could help create an "insights culture." They quickly produced a slate of top candidates with a track record of results based on their thought leadership, business acumen and relationship-building – as well as their skills in consumer research and data visualization. The successful candidate had a foundation rooted in business analytics and market intelligence for major consumer brands, as well as end-to-end consumer research and analytics management experience. Importantly, they had a proven track record of accountability for business results by advising and counseling business partners in the development of new and existing business strategies.
Director of Market Demand Generation
To advance the health system's demand generation strategy, they needed a leader who would identify opportunities for growth by serving as the "curator of customer intelligence," champion for customer-centered decision making and strong collaborator across the organization. O'Connell Group tapped into their network of leaders with who have successfully hardwired consumer insights into integrated, omni-channel strategies that are creative, compelling, carry a consistent message, and amplify the brand. The successful candidate had a strong background in business and brand management highlighted by their success in developing organizational business partnerships to identify, launch, and refine demand generation strategies.
Results
In less than three months, O'Connell Group recruited these leading professionals, despite the pandemic surge and holiday season. The combination of the firm's experienced recruiters, depth network, quality of relationships and highly engaged process enable the health system to quickly – yet strategically – fill these roles. Based on the success of these searches, the health system has assigned the additional search for senior director of marketing to continue building marketing team with the skills and experience to partner – as leaders – with their colleagues in shaping the remarkable care the health system delivers.
Learn More About Recruitment Timeliness and Efficiency
People are key to building successful brands and achieving your mission-critical growth objectives. Please call or email us to benefit from our experience helping companies efficiently and effectively hire talented professionals who fit.