Consumer Packaged Goods: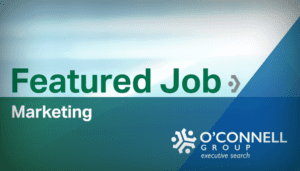 One of the most trusted and successful companies in the consumer packaged goods industry with an extensive portfolio of iconic brands is hiring a Vice President, Marketing to serve as the visionary for the portfolio.  This is a great opportunity for someone energized by leading a business transformation to make an impact by building passion for a beloved family of brands.
Vice President, Marketing Position Highlights:
Key role developing long-term strategy for a large portfolio of brands to drive continued multi-channel growth and profitability
Generate excitement and direction for a robust new product pipeline
Inspire and develop a large, talented Marketing team
Build strong relationships and collaborate with partners across functions
Executive role with continued upward mobility
Vice President, Marketing Ideal Candidates:
Classic consumer packaged goods experience – innovation and base
Track record of consistent progress to roles of increased responsibility
Proven innovation experience with demonstrated success growing a brand
Large portfolio management experience responsible for both short-term and long-term innovation
Inspiring consumer-centric leader with a track record of big scale impact
If you or someone you know is well-qualified for this role and would like to learn more, please send a message or submit the form below. A member of our team will respond right away.